It's highly important to present yourself to coworkers and clients in a professional way. Dressing appropriately will help to make good impressions, increase your self confidence and promote respect from coworkers. But what does dressing professionally look like? Depending on what type of job you have, there are three main levels of professional dress for Office Personnel; business formal, business casual, and smart casual. In addition, there are guidelines for your attire for Manufacturing and Distribution Personnel as well as Construction Personnel.
Office Personnel
Business Formal
For Gentleman: A full suit should be tailored to your body and should always have a tie or bow tie. Formal attire means matching pants and suit coat. Polished leather or closed toed dress shoes will tie this look together.
For the Ladies: Conservative business dresses with a suit coat or a skirt and suit coat combo is appropriate for the ladies in a business formal setting. A tailored form fitting suit is a great option as well. Closed toed pumps, ballet flats or loafers are acceptable here to complete the look. Jewelry and accessories should be simple like pearl or diamond studs and a dainty watch.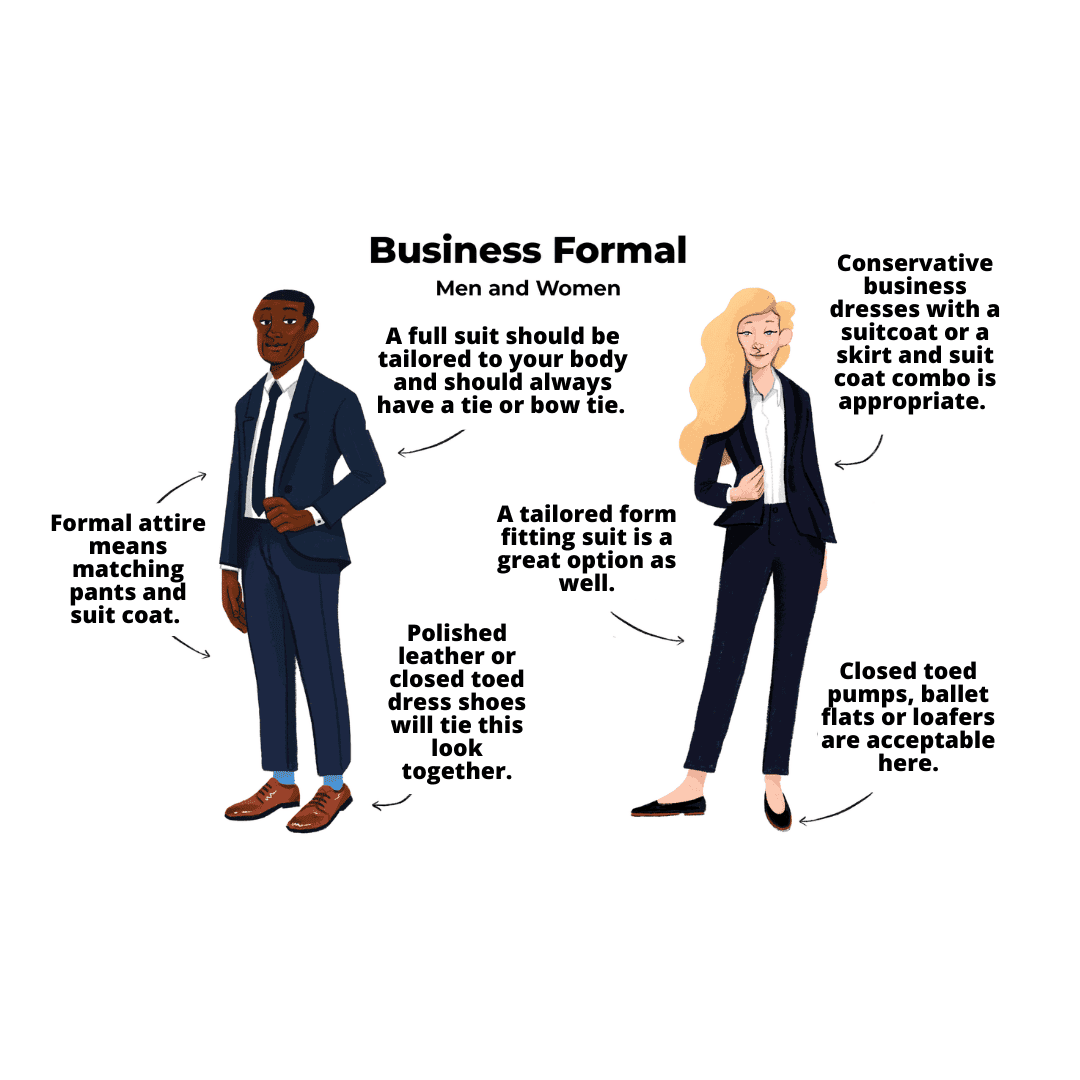 Business Casual
For Gentleman: A neutral button down, tucked in, paired with a sport coat or sweater is considered business casual. No tie needed for business casual.Neutral colored slacks are appropriate, but never jeans. Polished leather or closed toed dress shoes are the standard.
For the Ladies: A tailored neutral colored blouse and pants is a great option for business casual. You can also add a blazer or sweater in the cooler months or to add dimension. Conservative business dresses or a skirt and blouse combo are also a great choice. Any closed toe shoe is perfect for this look. Here you can play with your accessories a bit more to complement your outfit.
Smart Casual
For Gentlemen: Neutral collared button down shirt or polo paired with neutral colored slacks or khakis is the standard. For smart casual jeans are allowed on special occasions or if specified. Polished leather or closed toed dress shoes will keep you looking smart, but never sneakers.
For the Ladies: Light patterned dresses are great as long as they are conservative. Light patterned blouses with pants or a skirt is another great option. Jeans are typically only allowed on occasion, but the jeans should be tailored apportely and should never rips. Casual flats or heels are perfect as long as they are close toed.
Manufacturing & Distribution Personnel
For those working in a Manufacturing or Distribution setting, durable work pants are required and sometimes blue jeans are allowed. Steel toe boots and form fitting clothing are important for your safety. Additional personal protective equipment can include safety glasses and gloves.
Construction Personnel
Durable work pants are required and sometimes blue jeans are allowed for those working in a construction setting as well. Here, you must wear a work boot with ankle support. Typical personal protective equipment includes hard hat, high visibility vest or shirt , safety glasses and gloves.
If you are looking for a job or are interviewing, the rule of thumb is to dress business formal until you understand the workplace norm. If you are ever wondering if your workplace attire is appropriate, just ask! If you are looking for a job in the Charlotte or Rock Hill areas, contact Performance Staffing Solutions today.